Case Study:
KeynotePro
PitchBoards NXT Theme System
NXT-Generation reboot of the premier Storyboarding solution for Keynote.
At a Glance
I redesigned PitchBoards from the ground up to take advantage of everything the modern Keynote architecture offers.
Since it's release in 2003, PitchBoards has been the go-to solution for film and video artists in need of a professional-grade presentation platform for pitch meetings, story-board presentations, or any presentation where visual ideas needed to take center stage. The PitchBoards NXT reboot would propell the line forward with a completely redesigned framework, delivering all-new options for creating immersive storyboards that put the audience into the center of the action.
The classic PitchBoards architecture was designed for an era when Standard-Definition still ruled the airwaves. For PitchBoards NXT, I discarded old assumptions and outdated formats to reinvent the storyboard presentation for a new era – shedding legacy formats and their associated slide-library complexity, refocusing around 4:3, 16:9, and Scope formats for easy Mobile/TV/Screen differentiation, and dramaticly simplifying the authoring & tagging experience.
Theme System Design, Theme Architecture & Implementation, Template & Jumpstart Library Implementation (Keynote)
The NXT reboot pushed PitchBoards back to the top of KeynotePro's Best-Seller list, where it's remainded to this day.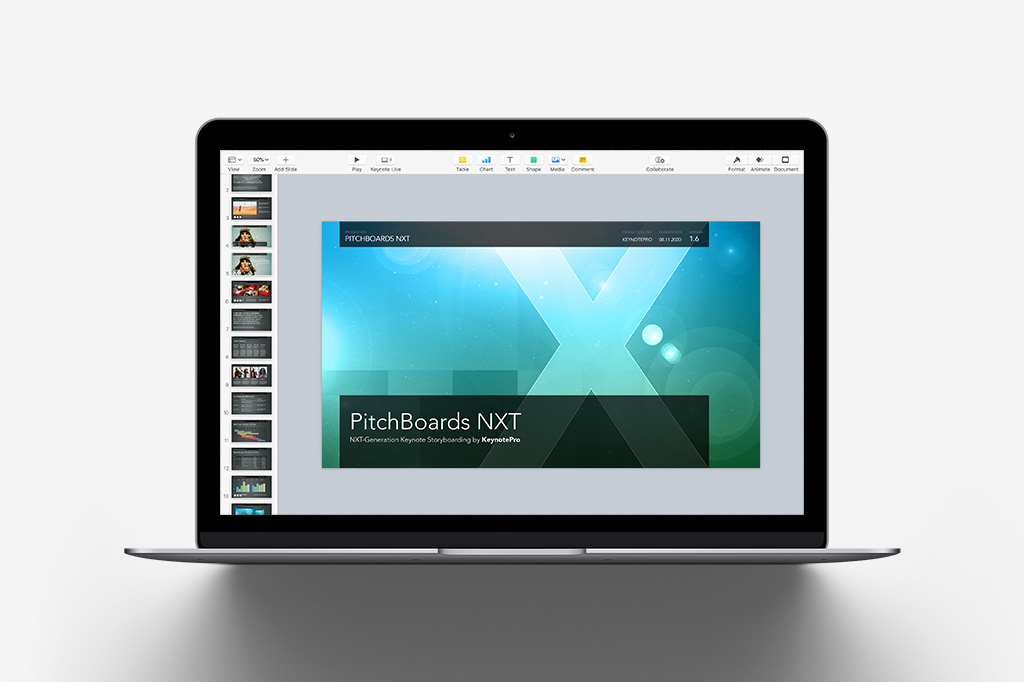 Immersively Modern
The PitchBoards NXT System is built around full-spec Keynote theme cores (.kth), including a library of 60+ slide masters that capture the essential layout archetypes, styles, and scaffolding for the extended system. The classic Single, Multi-Column, and Scene slides are joined by new Contextual masters and immersive Embed-style masters that take advantage of the entire slide to put your audience into the center of the action.






Intelligent Extensions
The NXT build expanded to include purpose-tailored Template Extensions, making it easy to add Timelines or interlinked Smart Budget slides to a PitchBoards deck. The new JumpStart template kit adds an Independent Film Investor Pitch framework, ready to customize out-of-the-box.




Sketch it Up
The system extends into Pages with the PitchBoards Sketch templates, making it easy to print storyboarding blanks for 4:3, 16:9, Scope, and Multiscope ratios directly from Pages, with shot layout styles mirroring the companion Keynote slides.